Swipe to the left
Augmented reality prototyping

Welkom bij de volgende stap in productontwikkeling!
'Augmented Reality' (AR), ook wel 'Toegevoegde/Aangevulde Realiteit' is een computer gesimuleerde manier om een 'laag' aan de werkelijkheid toe te voegen. U heeft er vast en zeker wel eens van gehoord de laatste jaren aangezien deze toepassingen een enorme vlucht hebben genomen, vooral ook doordat smartphones en tablets steeds krachtiger worden. Denk bijvoorbeeld aan apps die object- en locatieherkenning toepassen en u hier actuele informatie over geven: u richt de camera van uw smartphone langs een straat en op uw scherm wordt aangegeven welk restaurant een goede review heeft, handig! Ook kunt u denken aan head-up displays in auto's die actuele informatie geven over uw omgeving geprojecteerd op uw voorruit. En kunt u dat spelletje Pokémon GO nog herinneren? Ook dat is een voorbeeld van een van de vele toepassingen die Augmented Reality kent.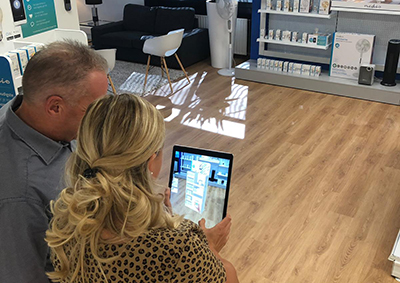 Waar wij augmented reality voor gebruiken
Bij Endless Branding gebruiken wij augmented reality om onze klanten sneller een beeld te kunnen geven van onze ontwerpvoorstellen en deze uit te proberen op de winkelvloer. Zo kunnen wij bijvoorbeeld aan de hand van een display die op dat moment alleen nog digitaal bestaat deze bij u uitproberen met een van onze tablets. De camera('s) registreren de afstand tot de grond, de grootte van de ruimte en met een paar handelingen 'plaatsen' wij ons virtuele product op ware grootte op de plek die u wenst. Als er nog aanpassingen gemaakt moeten worden zijn deze eenvoudig en zonder verspilling daarna te doen. Groter, kleiner, een andere vorm of op een andere plaats? Het is allemaal eenvoudiger geworden met deze techniek!

Wat heeft de toekomst in petto?
Wij kunnen nog wel een hoop toepassingen verzinnen om het voor u en ons makkelijker én beter te maken met augmented reality. Endless Branding is doelbewust vooruit aan het denken en in de toekomst zullen wij ook deze service steeds verder aanvullen en verbeteren.
Bent u benieuwd wat we voor u hierin kunnen betekenen of wenst u een demonstratie? Neem contact met ons op!